When my neice said I should start a blog, I thought she was mad!
What would I write about?
So like a kind patient parent she sat me down and said "lets begin"! With her help and a fab logo from my son I felt like a start had been made. However, as blank pages screamed at me I'm affraid I buckled under the pressure. My poor little blog was left in the dark for no one to see! Then dear neice said "Aunty you have a nice looking blog, you must write", all said with a smile. So here we are and my friends I have found many things to write about in the last couple of months. I learnt how to put on pictures and how to make my blog look better. I learnt how to tweet ( well thats another story a work in progress) and how to take part with other blog's and comment. I also learnt about "buttons" and "blog politeness" and all the other million things you have to learn.
Im getting there, I love to learn and I hope my blog is interesting so some, I hope it is being read?
Are you out there friends?
Please visit my niece Emma over at
The Syder's
as she is a wonderful writer and her blog is full of fun and ideas.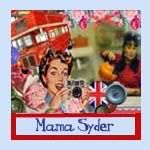 "